As part of Feeler design concept contextual inquiry, a co-design workshop was organized with students of Kyushu University Design School. The intention of the workshop was to explore issues dealing with the use and visualization of Quantified-Self data for improving learning and well-being.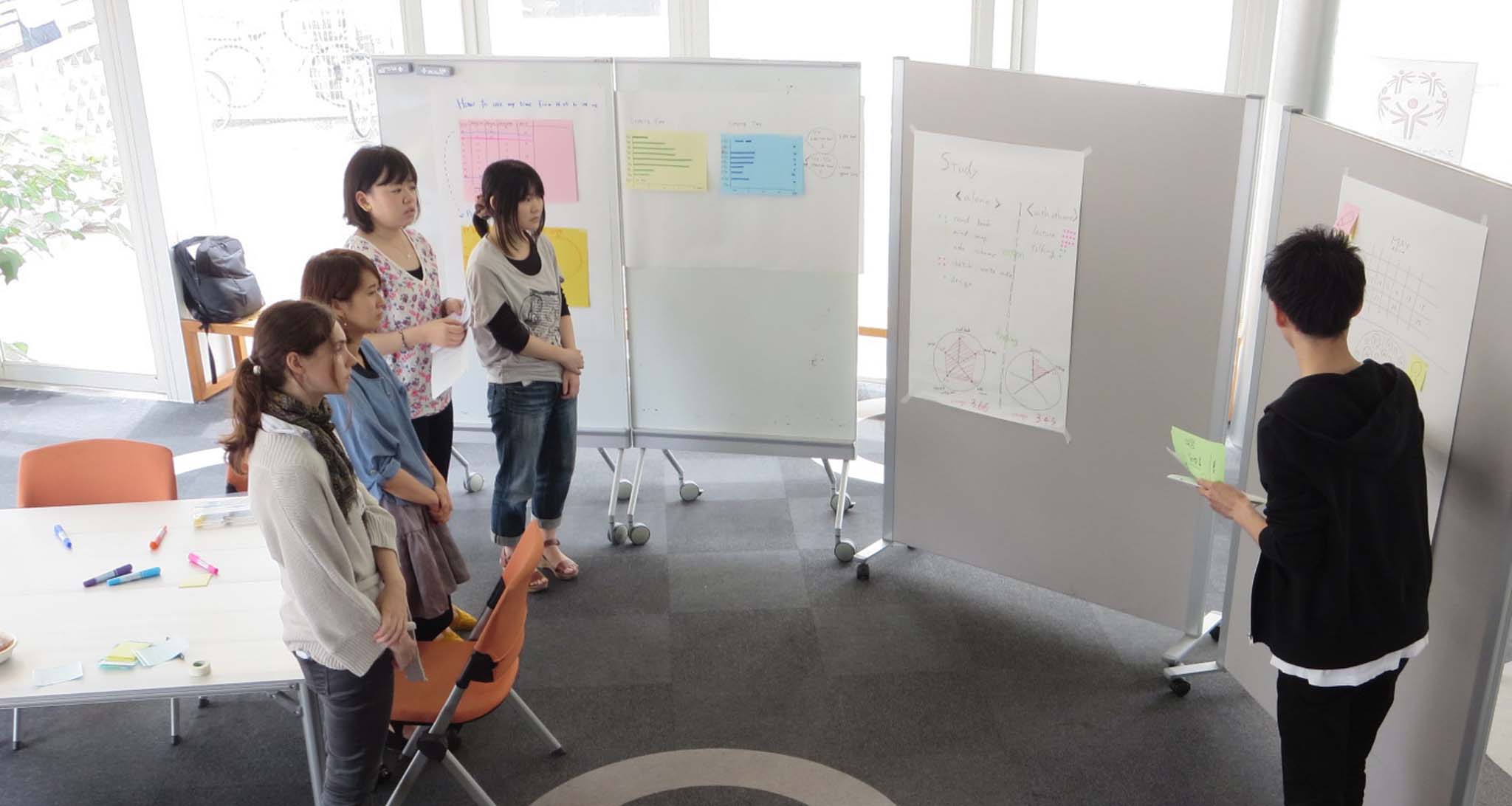 6 Japanese students from industrial design, architecture and inclusive design took part in the session, which consisted in playing a co-design game.The game followed a journey structure that portrayed the different stages that people involved in self-monitoring for behavior change go through. During the game, players were asked to choose a character, a persona, and play its' role. This way, it was easier to understand and develop and empathic understanding of the different motivations that lead to self-monitoring.
The game final goal was to reach the last square of the board, which represented behavior change. In order to achieve this, players had to obtain a minimum of 40 points. During the game, players received or lost points according to the decisions they took. Some of these decisions dealt with: the type of data to monitor, the device used for collecting the data or the type of data visualization.
At some point, players were asked to design how they would visualize the data collected about their character's behavior (previously they were given the datasets corresponding to period of time they wanted to monitor). Designing the data visualizations and sharing the different proposals were the most important parts of the workshop, and therefore the ones in which players spent most of the time. Participants were highly involved and, even that visualizing the data was a challenging task, all of them managed to end their proposals on time and enjoyed the experience.
The attendants' comments helped to improve the game materials, which had been translated to Japanese, as well as some of the game instructions. The session was also useful to reconsider some aspects dealing with time management and facilitation. Dealing with facilitation, it is interesting to note that most of the data visualizations focused on representing the data as accurately as possible. In this regard, more emphasis should be placed on encouraging participants to be more playful and experimental at expense of losing accuracy.
In general, the pilot workshop was useful for improving the game materials and reconsider some issues dealing with facilitation. On the participants' side, students were quite interested in the use of games as a design research method and some of them directly expressed their intention to use them in their projects after this first hand experience.